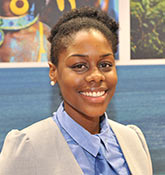 Lisa Braithwaite
Account Manager Leisure & Trade
Lisa joined Eyes2market in 2014.
Her product knowledge, combined with more than three years at a top UK advertising and marketing agency is vital for her role working with modern marketing methods and strengthening relations on both sides of the Atlantic; driving sales from the UK to this region.
She is responsible for improving tour operator sales, travel trade training and day to day client relations, specifically for tourist board the Grenada Tourism Authority.